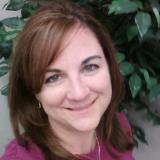 My name is Kris McLamb, EA. What's an EA you ask??? Well, in the United States, an enrolled agent (or EA) is a person who is authorized to represent taxpayers before the
Internal Revenue Service
(IRS) by passing an IRS test, or through experience as a former IRS employee. Enrolled agent status is the highest credential awarded by the IRS.
[1]
The EA credential is recognized across all 50
U.S. states
. Attorneys and certified public accountants (CPAs) are licensed on a state by state basis, and are also empowered by the Department of the Treasury to represent taxpayers before the IRS.
[2]
According to the National Association of Enrolled Agents, there are approximately 48,000 practicing EAs in the United States
.
I have been in the tax industry since 2003. After serving 8 years in the Air Force, I decided to follow my passion for tax. After obtaining my BS in Accounting, I started my career in retail tax management, where I learned how to run a tax office. As a result of a military move, I transitioned into public accounting by obtaining an accounting position in a local tax firm. This position allowed me to gain experience dealing with the ins and outs of daily tax and accounting operations while focusing on client care. After another military relocation, I finally opened up my own practice in 2012.
My passion is tax, and I have a variety of industries I enjoy working with.
​I would love to talk tax with you!
---